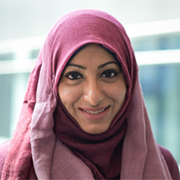 Zehnab "Zee" Vayani
Consumer member of the Queensland Health Consumer Collaborative
Zehnab is an actively engaged health and consumer advocate with a passionate commitment for working collectively with others to improve healthcare in Queensland.
She has a demonstrable track record of successfully advocating for healthcare services being more accessible, holistically focused and better integrated around the needs of health consumers and their families by actively taking a social determinants of health focus. This focus is informed by her own family lived experience of complex health care across a number of care settings. She is also a champion for co-designed innovation in healthcare that balances ethical considerations around health consumer and carer human rights, quality, safety and accessible information to inform advances in personalised healthcare and medicine.
As well as her studies and health consumer roles, she is a mother of two girls and lives with her family on the Gold Coast.