At Health Consumers Queensland we have never seen the health system work this hard and this collaboratively to care for its consumers.
The challenges for Health Consumers Queensland and Queensland Health mean we need to work closely together to ensure consumers are brought in at the right time to influence plans, and public-facing communications and directives.
Here we update you on the latest work with consumers and staff and share how consumer input is impacting how Queensland Health supports and informs Queenslanders around COVID-19.
Queensland Health Resources

With our borders re-opening, COVID-19 will begin to circulate in Queensland, despite our high vaccination rates. Now is the time to Get COVID-Ready.
Queensland Health has produced a range of resources to help consumers prepare for the expected increase in COVID cases. Topics include preparing your family, what happens if you test positive and where to get help. There are sections with specific information for people living in regional areas, First Nations communities, residents of Aged Care facilities and more.
As Queenslanders, we know how to prepare for summer storms – clean the gutters, move projectiles from the garden, and have emergency numbers handy.
Current modelling shows that COVID-19 will spread from when the border opens next month and is predicted to peak in Queensland in March. Some communities will be hit harder than others.
What does Qld have in place to cope with an outbreak?
What should you be doing to prepare?
How will you access healthcare and community services during an outbreak?
Do you know what to expect if you contract COVID-19?
What does Qld have in place to cope with an outbreak?
Watch this panel discussion between our CEO Melissa Fox and Dr Alex Markwell as they outline what we might expect from COVID in 2022 and what consumers and communities need to do now to prepare themselves for the Delta variant.
About Dr Alex Markwell
Dr Alex Markwell is a Senior Staff Specialist at the Royal Brisbane and Women's Hospital Emergency and Trauma Centre and Senior Lecturer with the University of Queensland. She is the Chair of the Qld Clinical Senate and a past president of AMA Queensland.
With parts of Queensland in lockdown against the Delta variant for the first time, a public health system under extreme pressure and an acceleration in the vaccine rollout,  HCQ has focused on listening to consumers and carers and staff. We moved mindfully and acted swiftly and strategically to maximise the impact of our small team and the voices of consumers, to help keep Queenslanders safe and well.
Amplifying your voices across the public health system during lockdown
We know there are so many issues for health consumers and the system to navigate during an outbreak . We held a Consumer Conversation to ask how the latest COVID-19 outbreaks in Queensland were affecting you and your health. We also heard from members of our CAG and Youth Reference Group and consumer representatives, consumer, disability, aged and palliative care and culturally and linguistically diverse NGOs to find out how they've been impacted by the lockdowns, regional cases and concern about spread.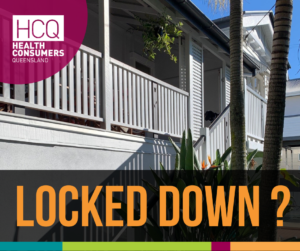 Friday, 6 August 2021
10.00-11.15am via Zoom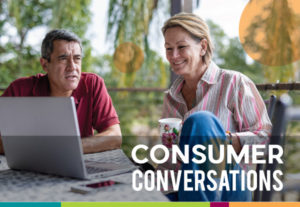 Health Consumers Queensland invites regular users of the health system from right across the State to talk about how the latest COVID-19 outbreaks are affecting you and your health. By sharing your experiences and solutions, we can identify the key issues and help shape the health system's response.
After you have registered, you will receive a confirmation email with information about joining the conversation.
We asked consumers for their reaction to the COVID-19 response from Queensland Health, and from...
read more