BY INVITATION ONLY
Workshops to help strengthen your consumer partnerships 
Grab your lunch and join us for quick consumer engagement workshops via Teams. These workshops will give you the practical advice you need to strengthen your partnerships with consumers.
Who can participate?
Only staff engaged in priority projects as identified by Queensland Health and Health Consumers Queensland.  Not sure if this is you? Ask your supervisor or contact us.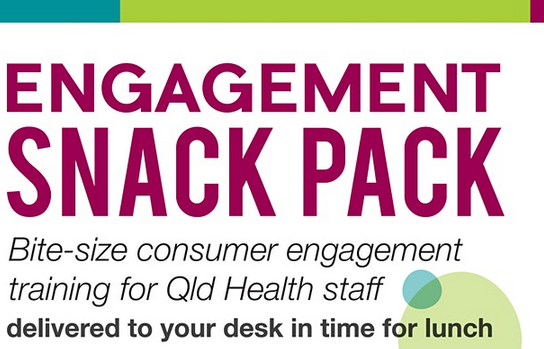 Session structure and delivery
4 x 30-minute sessions.
Begins with a short presentation followed by questions from the participants.
Delivered via Microsoft Teams.
You will need to register to attend the session.
What are the benefits of participating?
Short and focused.
Practical strategies and tips.
Opportunity to ask questions.
Convenient.
Free of charge.
What topics will be covered?
Fundamental of consumer partnerships.
Guide for best practise – Consumer and Community Engagement Framework.
Supporting your consumers for successful partnerships.
Supporting your staff for successful partnerships.
Keen to join but not eligible?
Subscribe to our newsletters to hear about upcoming training and other opportunities for health organisation staff.